LIFETIME AUTHENTICITY GUARANTEE WITHOUT TIME LIMIT
RUSSIAN-AMERICAN CONDUCTOR FABIEN SEVITZKY SIGNED ARCHIVE OF 25 AUTOGRAPHED LETTERS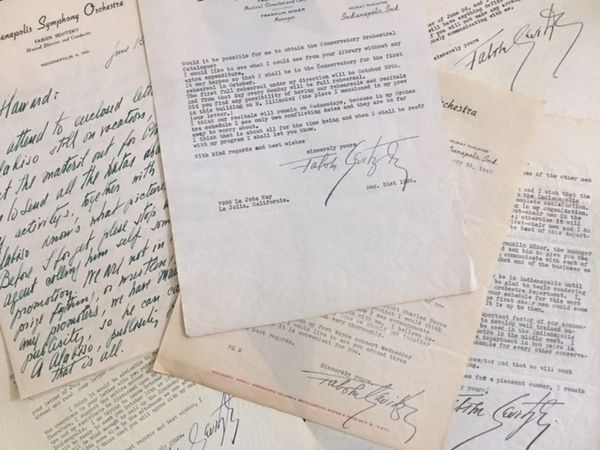 Description
FABIEN SEVITZKY HISTORIC AUTOGRAPHED ARCHIVE consisting of 25 Typed Letters Signed and 1 handwritten letter signed "Fabien Sevitzky," "Fabien," and "F. S.," co-ordinating his arrival in Indianpolis and the terms, hiring of musicians, developing teaching outlines, orchestral duties, etc. Also included are a number of vintage unsigned photos of Sevitzky, telegrams, newspaper clippings, annotated teaching notes, performance brochure, etc. In fine condition overall, with typical mild handling wear, some letters with intersecting folds, mild toning, soiling, wrinkling.
FABIEN SEVITZKY (1893-1967) was a Russian-American conductor, teacher, and double bassist. He became the music director of the Indianapolis Symphony Orchestra and in 1937, after he first conducted it in winter 1936, and remained in the position until 1955. While in Indianapolis he was also a faculty member at the Jordan Conservatory of Music the predecessor school of Butler University's Jordan College of Fine Arts. He led the orchestra in a series of recordings for RCA Victor from 1941 to 1946 and for Capitol Records up to 1953. He later became a faculty member at the University of Miami and became the conductor of the university's orchestra. He was music director of the Greater Miami Philharmonic Orchestra from 1956 to 1962. He toured as a bass soloist and guest conducted the Berlin Philharmonic, the Orchestre Symphonique de Paris, the Vienna Symphony Orchestra, the Warsaw Philharmonic Orchestra, the Los Angeles Philharmonic in the Hollywood bowl, the Philadelphia Symphone Orchestra and the Washington D.C. Summer Concerts.

$1200 #10244 (To see other Classical Music Items CLICK HERE)

Thank you for visiting our web site. We hope you enjoyed looking at all the wonderful autographs, historic documents, fine art photographs, and interesting memorabilia. Please let us know how we can be of service. We appreciate you letting your friends know about us.