LIFETIME AUTHENTICITY GUARANTEE WITHOUT TIME LIMIT
ENRICO CARUSO SIGNED SELF-PORTRAIT SCULPTED METAL CASTING MADE BY HIM AND LATER DONATED TO THE RCA "HALL OF PROGRESS"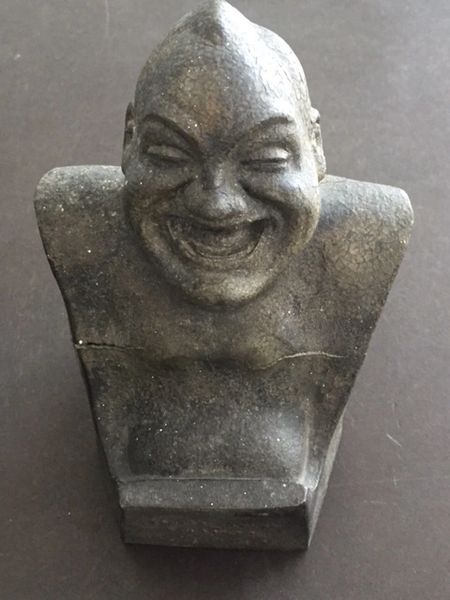 Description
ENRICO CARUSO SIGNED SELF-PORTRAIT SCULPTED METAL CASTING, "Enrico Caruso 1909", the original model of which was sculpted by him. And, this is the very first casting attempt made by his foundry and for sentimental reasons kept in his personal collection for many years, but later donated to the RCA "Hall Of Progress", 6.5 x 5 x 4, weight approx 2 lbs. It is in the original unpolished stage and has several casting cracks that do not diminish its artistry. A rare example of Caruso's artistic talents.
$900 #10671
Offered here is an original, cast metal bust, the original model of which was sculpted by the world famous opera star Enrico Caruso. In this work, he portrayed himself as a Billiken. The Billiken was a pop-culture, charm doll, deemed "the god of things as they ought to be". The Billiken was created by illustrator Florence Pretz of Kansas City, MO. She is said to have seen the figure in a dream. She received a design patent on the figure in 1908, and shortly thereafter it became a popular culture figure and somewhat of a craze.
Enrico Caruso (1873-1921) sang to great acclaim at the major opera houses of Europe and the Americas, appearing in a wide variety of roles from the Italian and French repertoires that ranged from the lyric to the dramatic. He also made approximately 260 commercially released recordings. Caruso's 25-year career, stretching from 1895-1920, included 863 appearances at the New York Metropolitan Opera before he died at the age of 48. .
He is known not only for his tenor voice, but also for his caricatures, mainly of himself given to friends and fans. This sculpture, created by him, and cast in small numbers in 1909, was given to only his closest friends and colleagues, illustrating his talent as an artist, showing a sense of humor, fun, and an acute awareness of contemporary pop culture.
This particular bronze is the very first casting attempt at the Roman Bronze Works, NY and was kept by Caruso himself for many years. Caruso later gave this casting to the RCA "Hall of Progress", at the David Sarnoff Research Center in Cherry Hill, N.J. The exhibition was closed in the late 1950's and we acquired this metal casting from a long-retired RCA executive. The bust measures 6.25" tall, 4.75" across the shoulders, 4" deep, and weighs approximately two pounds. It is clearly signed and dated in the metal, on his left shoulder, has his name stamped on the lower base, and bears the earliest stamped foundry mark of Roman Bronze Works, NY, on the reverse.
$900 #10671