LIFETIME AUTHENTICITY GUARANTEE WITHOUT TIME LIMIT
DOUGLAS MAC ARTHUR AUTOGRAPHED JAPANESE OCCUPATION 51 PIECE HONOR GUARD ARCHIVE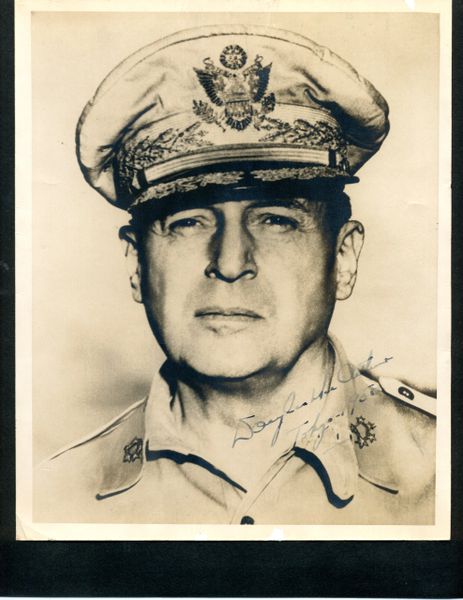 Description
GENERAL DOUGLAS MAC ARTHUR MULTIPLE-SIGNED JAPANESE OCCUPATION 51 ITEM HONOR GUARD ARCHIVE
This 51 piece archive contains three signed historic photographs by General MacArthur: an 8 x10 closeup portrait photograph in uniform and signed "Douglas MacArthur, Tokyo - 1950," with three small scrapings on the borders, otherwise in fine condition; an 10 x 8 signed photo "Douglas MacArthur," of a street scene showing MacArthur entering a building as his Honor Guard surrounds him, while holding several Japanese citizens at bay, multiple creases but the image is in fine condition; an 10 x8 heavily damaged photo that is signed boldly "Douglas MacArthur," showing MacArthur leaving his Headquarters with the Honor Guard all around him. This photo has been torn in half and badly taped together but is still of historic significance as related to the occupation. In addition there are seven (7) additional unsigned original vintage photos of various sizes showing MacArthur in various activities: reviewing the Honor Guard, visiting with Japanese citizens, emerging from his car with his Honor Guard slauting. There are also three Honor Guard documents: a membership certificate, a copy of a letter of commendation, and an "Honor Guard Company Headquarters and Service Group General Headquarters, Far East Command," brochure listing the names and ranks of the then current Honor Guard. There is also 1 vintage 9.5 x 8 photo of the U.S.S. Republic a troop transport ship used in WWII. Finally, there are 37 unsigned vintage photos, of various sizes, picturing a variety of Honor guard activities, most of which are in fine condition with minor creasing. 51 total items in the General MacArthur Japanese Occupation Honor Guard archive.
General Douglas MacArthur (1880-1964) was an American general who commanded the Southwest Pacific in WWII and was appointed by President Harry Truman as Commander of the Japanese occupation on Victory Over Japan, or V-J Day, May 14, 1945 which marked the end of WWII. MacArthur was responsible for co-ordinating the demobiliztion of the Japanese military forces, restoration of the economy, the drafting of a new constitution, and many other reforms. 

General Douglas MacArthur's Honor Gurard was formed in May 1945 and the 200 officers and men served MacArthur until April 195. The members of this elite unit were selected based on their military bearing, intelligence and physical stature. Every combat Division of the U.S. Army in the Pacific was represented in its ranks. They were the best of the best soldiers entrusted to provide security to MacArthur himself and his Headquarters but for his family as well. Members of the Honor Guard are very visible in these 48 original vintage historic photographs, three of which are signed by General MacArthur. 
  $3000   #10236   (To see other WWII items click here )
Thank you for visiting our web site. We hope you enjoyed looking at all the wonderful autographs, historic documents, fine art photographs, and interesting memorabilia. Please let us know how we can be of service. We appreciate you letting your friends know about us.