LIFETIME AUTHENTICITY GUARANTEE WITHOUT TIME LIMIT
OPERATION DESERT STORM SIGNED COLIN POWELL, NORMAN SCHWARZKOPF AND SIX OTHERS IN MILITARY CHAIN OF COMMAND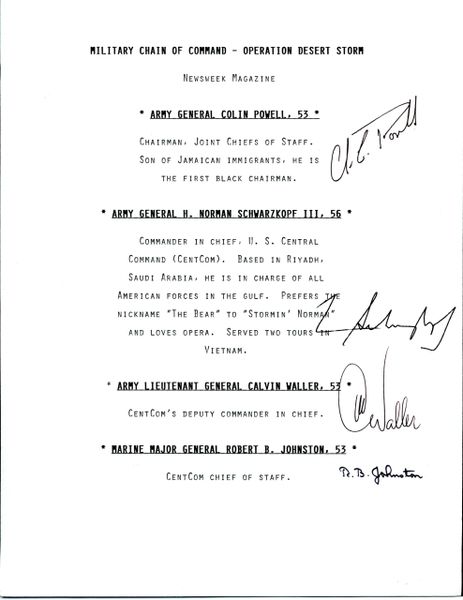 Description
OPERATION DESERT STORM SIGNED MILITARY CHAIN OF COMMAND GENERAL COLIN POWELL, GENERAL NORMAN SCHWARZKOPF, GENERAL CALVIN WALLER, GENERAL ROBERT B. JOHNSTON, GENERAL JOHN J. YEOSOCK, GENERAL WALTER BOOMER, ADMIRAL STANLEY ARTHUR, AND GENERAL CHARLES HORNER, TWO PAGES, 8.5 X 11. IN FINE CONDITION.
OPERATION DESERT STORM was the codename for the first Gulf War, a successful U.S.-Allied response to Iraq's surprisingly successful invasion of neighboring Kuwait in August of 1990 and then quickly amass his troops on the border to Saudi Arabia. That's when a meeting between Secretary of Defense Dick Cheney, General Schwarzkopf, and King Fahd of Saudi Arabia quickly led to largest buildup of American forces since the Vietnam War. Saddam Hussein's forces were subjected to a merciless air attack; every imaginable target was destroyed. This was followed by a massive ground attack and one of the largest tank battles in history. On April 5th, 1991 Iraq accepted a cease fire.
This Military Chain of Command is signed by Army General Colin Powell, Chairman, Joint Chiefs of Staff; Army General H. Norman Schwarzkopf III, Commander in Chief; Army Lieutenant General Calvin Waller, CentCom's Deputy Commander in Chief; Marine Major General Robert B. Johnston, CentCom Chief of Staff; Army Lieutenant General John J. Yeosock, Commander of all U.S. Army Forces; Marine Lieutenant General Walter Boomer, Commands all Marines in the Persian Gulf; Vice Admiral Stanley Arthur, Commands 120 warships from the USS Blue Ridge; and Air Force Lieutenant General Charles Horner, Commands 1,800 U.S. warplanes in the region. An impressive group of signatures all on the same document.
$1500 #10226BLZ (WE HAVE MANY OTHER INCREDIBLE MILITARY ITEMS IN STOCK)
Thank you for visiting our web site. We hope you enjoyed looking at all the wonderful autographs, historic documents, fine art photographs, and interesting memorabilia. Please let us know how we can be of service. We appreciate you letting your friends know about us.