LIFETIME AUTHENTICITY GUARANTEE WITHOUT TIME LIMIT
BATE, GENERAL WM. B., CONFEDERATE CIVIL WAR DATED SIGNED SPECIAL ORDER NO. 16 ON CONFEDERATE STATES OF AMERICA WAR DEPARTMENT ORDANCE BUREAU LETTERHEAD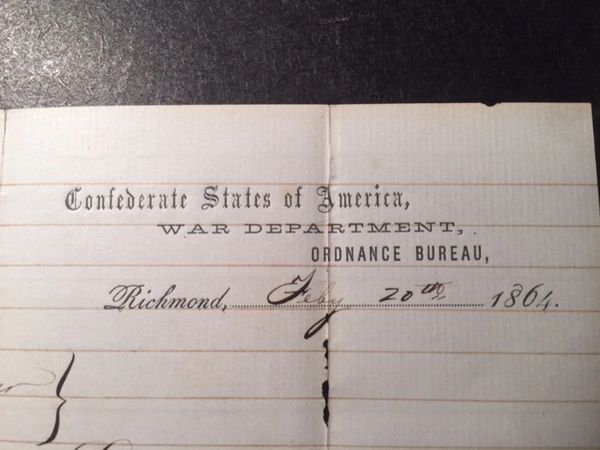 Description
CONFEDERATE CIVIL WAR DATED SIGNED SPECIAL ORDER NO. 16, "Col. J. Gorgas", "Major Tho L. Baijne", on Confederate States of America War Department Ordnance Bureau letterhead, 7 x 10, Richmond, Feby 20th, 1864, regarding the establishment of "a Board of Officers for the purpose of examining...ord officer of the Brigade commanded by Genl William B. Bate...and report the result of the examination as soon as practicable." This is a handwritten copy that would have been sent to one of the officers involved in this Confederate, war-dated, procedure. With the exception of minor paper loss at the folds, it is in fine condition.
 A Special Order is a routine order issued by an authorized military headquarters that includes matter concerning individuals.
 William Brimage Bate (October 7, 1826 – March 9, 1905) was an American soldier and politician. He served as Governor of Tennessee from 1883 to 1887, and subsequently served as a United States Senator from 1887 until his death. He was a staunch supporter of secession in the years leading up to the Civil War. During the Civil War, he fought for the Confederacy, eventually rising to the rank of major general and commanding a division in the Army of Tennessee. Bate saw action in multiple engagements throughout the war, and was seriously wounded on two occasions.
 Bate's unit marched north with the Army of Mississippi in its attempt to check Ulysses S. Grant's advance at the Battle of Shiloh in April 1862.[4] Bate was wounded severely in the leg during the first day's fighting, and an Army surgeon told him it would be necessary to amputate his leg to save his life. Bate drew his pistol, threatening to shoot the surgeon, and kept his leg. Although he survived, he was incapacitated for several months, and walked with a limp the rest of his life.
 At the Battle of Chickamauga, Bate engaged in a skirmish with enemy forces that opened the fighting on the evening of September 18, 1863. In the intense fighting that took place on the following day, three of his horses were shot out from under him. Bate was promoted to major general on February 24, 1864 just four days after the date of this Special Order No. 16. During the war, he was wounded three times and had six horses shot from beneath him.
 $350   #10592