LIFETIME AUTHENTICITY GUARANTEE WITHOUT TIME LIMIT
BARTON, CLARA HISTORIC AUTOGRAPH LETTER SIGNED WITH AMERICAN RED CROSS CONTENT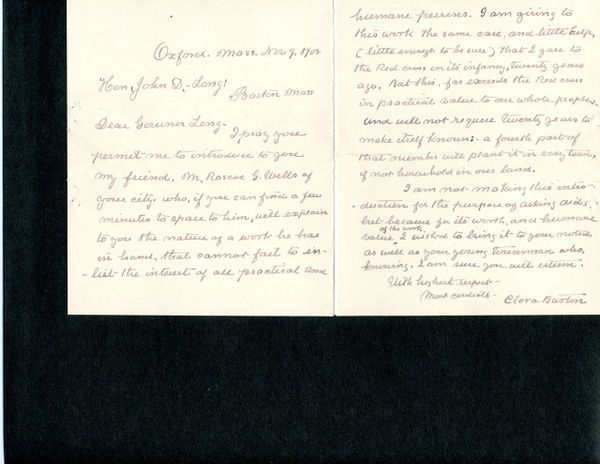 Description
CLARA BARTON HISTORIC AUTOGRAPH LETTER SIGNED WITH AMERICAN RED CROSS CONTENT, two pages, Oxford, Mass, Nov. 9, 1905, 5 x 6, "To Governor Long, Boston, Mass...I pray you permit me to introduce to you my friend, Mr. Roscoe G. Wells of your city, who, if you can find a few minutes to spare to him...the nature of a work he has in hand...I am giving to this work the same care...that I gave to the Red Cross in it's infancy, twenty years ago. But this far exceeds the Red Cross in practical value...I wished to bring it to notice to you as well your young townsman...With highest respect - most cordials - Clara Barton." Comes with her hand addressed envelope. Both items have staple holes on the outside edge, otherwise in fine condition.

CLARA BARTON (1821-1912) was a pioneering nurse who worked on the front lines at several battles, including Cedar Mountain, Second Bull Run, Antietam, and Fredericksburg during the American Civil War. She was the founder of the American Red Cross. She is known for her humanitarian work at a time when few women worked outside the home.  

General Roscoe G. Wells was Clara Barton's assistant at the National First Aid Association of America, which Barton had just established a few month earlier. She had resigned as President of the American National Red Cross the previous year because of criticism of her management style and her age (she was 82 at the time). She went on to serve as honorary President of the new organization for five years.
$1100   #10232 AORZ
Thank you for visiting our web site. We hope you enjoyed looking at all the wonderful autographs, historic documents, fine art photographs, and interesting memorabilia. Please let us know how we can be of service. We appreciate you letting your friends know about us.