LIFETIME AUTHENTICITY GUARANTEE WITHOUT TIME LIMIT
FAIRBANKS, CHARLES W. TYPED LETTER SIGNED BY U.S. VICE-PRESIDENT TO INDIANA GOVERNOR J. FRANK HANLY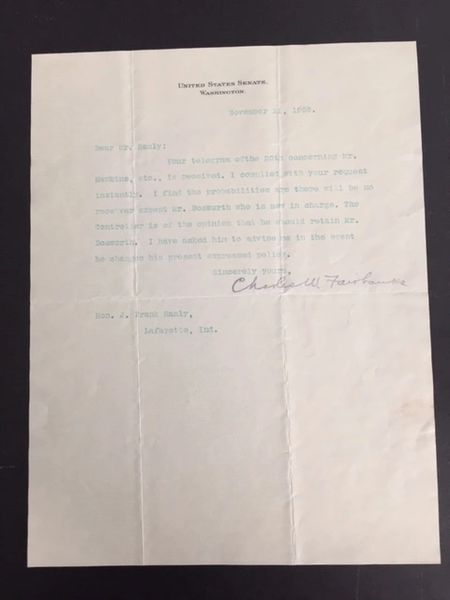 Description
CHARLES W. FAIRBANKS TYPED LETTER SIGNED, "Charles W. Fairbanks",  8 x 10, on "United States Senate, Washington" letterhead, November 21, 1903, to Hon. J. Frank Hanly, Lafayette, Ind., regarding a legal matter that the future Vice-President of the U.S. is coordinating for the future Governor of Indiana.  Age toning, mailing folds, otherwise in fine condition.     

Charles Warren Fairbanks (1852-1918) was an American politician who served as the 26th Vice President of the United States from 1905 to 1909 with President Theodore Roosevelt and a Senator from Indiana from 1897 to 1905. He was also the Republican vice presidential nominee in the 1916 presidential election. 

James Franklin Hanly (1863-1920) was an American politician who served as a congressman from Indiana from 1895 until 1897, and was the 26th Governor of Indiana from 1905 to 1909. 
$325   #11047