LIFETIME AUTHENTICITY GUARANTEE WITHOUT TIME LIMIT
BOB FOSSE & ROBERT W. WHITEHEAD SIGNED 14 PAGE CONTRACT OF LEGENDARY CHOREOGRAPHER/DIRECTOR & BROADWAY PRODUCER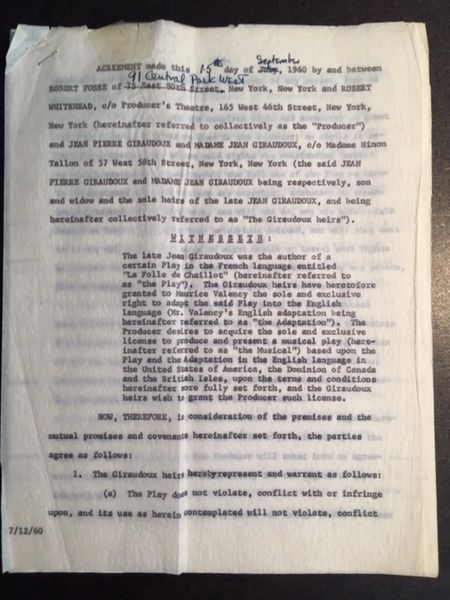 Description
BOB FOSSE ON BROADWAY
BOB FOSSE & ROBERT W. WHITEHEAD SIGNED, "Robert Fosse, Robert W. Whitehead", fourteen 8.5 x 11 pages, with handwritten emendations, September 15, 1960, New York, New York, contract of legendary Broadway choreographer/director and famous Lincoln Center producer, for an adaptation of a Broadway musical version of the Jean Giradoux play, The Madwoman of Chaillot. Light toning, minor edge wear and corner creases, front page creased, stapled together on upper left, small piece of tape at top of front page, otherwise in fine condition.
Robert Fosse (1927-1987) was a dancer, American musical theatre choreographer, director, and film director. He won eight Tony Awards for choreography, more than anyone else, as well as one for direction. He was nominated for four Academy Awards, winning for his direction of Cabaret. 
Robert W. Whitehead was the managing director of the drama-centered theatre at Lincoln Center in New York City. He hoped to convince his new friend, Robert Fosse, to direct a play at Lincoln Center but that quickly turned into a collaboration for Whitehead to produce a musical that Fosse would direct on Broadway. Although Whitehead was known for producing prestigious dramas by famous playwrights he had a secret enthusiasm for musicals.

Whitehead and Fosse came up with an idea that excited them: a musical version of the Jean Giradoux play, The Madwoman of Chaillot. This important and educational 14-page contract, boldly signed by both, reveals all the specific rights and responsibilities that the parties agreed to. In of itself, it's a legal guideline in the detailed mechanics of negotiating the purchase of rights from "the Giraudoux heirs" to a play authored by a deceased playwright. It specifically demonstrates the steps needed to get a play produced on Broadway: agent representations;  the adaptation from French into English and his rights; money: percentages for every possible monitary source, advances, guarantees, accounting; performing rights; merging the rights in and to the play with that of the new musical; motion picture, radio, and television rights; the composer, lyricist and book writer; subsidiary rights; the production contract of the Dramatists Guild of the Authors League of America; foreign rights; advertising and publicity issues; author credits; handling legal disputes/controversies, etc.
They approached Whitehead's friends, "the reigning theatrical monarchs", Lynn Fontaine and Alfred Lunt, to play the leads but Fontaine decided against it and the play was finally produced several years later with Angela Lansbury in the lead role. 
$725   #10924