LIFETIME AUTHENTICITY GUARANTEE WITHOUT TIME LIMIT
FUNICELLO, ANNETTE SIGNED BEACH BLANKET BINGO VINTAGE, 10 X 8, 1965 AMERICAN INTERNATIONAL CAST PRESS PHOTO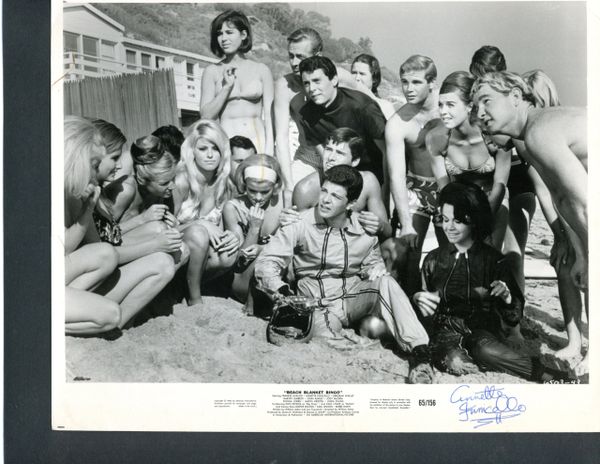 Description
ANNETTE FUNICELLO SIGNED BEACH BLANKET BINGO VINTAGE, 10 X 8, 1965, AMERICAN INTERNATIONAL PICTURE  CAST PRESS PHOTO that shows Annette Funicello, Frankie Avalon, et al, together on the beach. This press photo is identified as 65/156 and grants newspapers and magazines reproduction permission. She has signed in blue ink on the lower margin. One small scratch upper left and one small corner crease upper right, otherwise in fine condition.

Annette Funicello (1942-2013)  One of the most popular "Mouseketeers" on the original Mickey Mouse Club and later in her teen years she, along with Frankie Avalon, popularized the "Beach Party" movie genre during the 1960's. 
$155   #10288   (To see other Classic Entertainment items CLICK HERE )
Thank you for visiting our web site. We hope you enjoyed looking at all the wonderful autographs, historic documents, fine art photographs, and interesting memorabilia. Please let us know how we can be of service. We appreciate you letting your friends know about us.