LIFETIME AUTHENTICITY GUARANTEE WITHOUT TIME LIMIT
ALAN DEAN FOSTER SIGNED TYPED LETTER WITH INCREDIBLE GEORGE LUCAS, STAR WARS CONTENT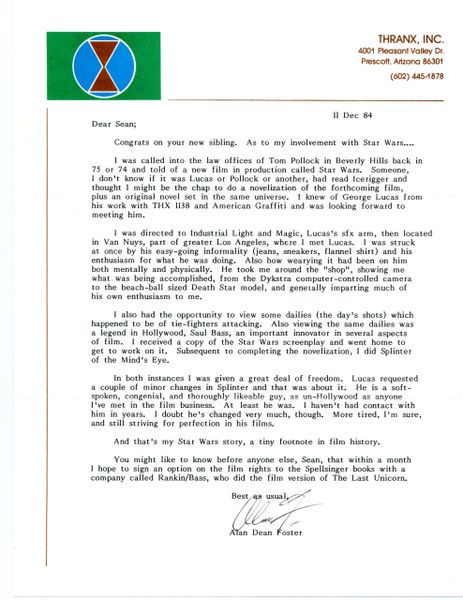 Description
ALAN DEAN FOSTER THE GHOSTWRITER OF THE ORIGINAL NOVELIZATION OF STAR WARS WHICH HAD BEEN CREDITED SOLELY TO GEORGE LUCAS. FOSTER WROTE THE NOVEL SPLINTER OF THE MIND'S EYE, A STAR WARS SEQUEL PUBLISHED IN 1978. FOSTER WAS LATER ANNOUNCED AS THE AUTHOR OF THE NOVELIZATION OF STAR WARS: THE FORCE AWAKENS. FOSTER HAS THE STORY CREDIT FOR STAR TREK: THE MOTION PICTURE.
Alan Dean Foster historic content typed letter signed, "Alan Dean Foster", one page, 8.5 x 11, on his Thranx, Inc. letterhead, postmarked envelope dated Dec 12, 1984. In part: "...Someone, I don't know if it was Lucas...had read ICERIGGER and thought I might be the chap to do a novelization of the forthcoming film, plus an original novel set in the same universe. I knew of George Lucas from his work...American Graffiti...I met Lucas. I was struck at once by his easy-going informality...and his enthusiasm for what he was doing...showing me...from the Dykstra computer-controlled camera to the beach-ball sized death star model...I received a copy of the Star Wars screenplay...completing the novelization, I did "Splinter of the Mind's Eye"...and that's my star wars story, a tiny footnote in film history. This is a one-of-a-kind-must-have for any star wars collector.
$495 #10123
Thank you for visiting our web site. We hope you enjoyed looking at all the wonderful autographs, historic documents, fine art photographs, and interesting memorabilia. Please let us know how we can be of service. We appreciate you letting your friends know about us.