LIFETIME AUTHENTICITY GUARANTEE WITHOUT TIME LIMIT
ALAN BEAN, MOON WALKER, APOLLO 12 ASTRONAUT AND ASTRONAUT JACK LOUSMAN SIGNED AND INSCRIBED 14 X 13.5 SPACE CRAFT LAUNCH PHOTO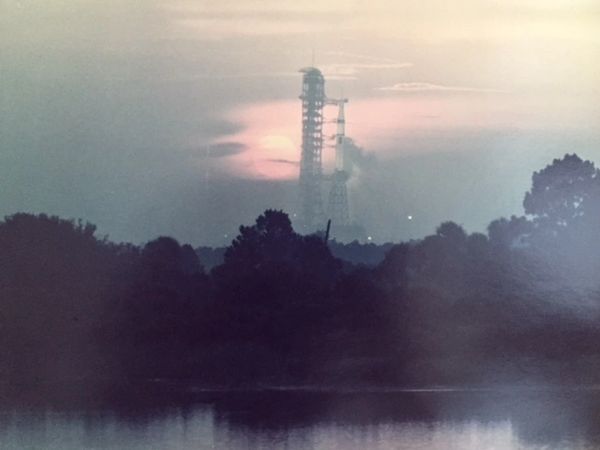 Description
MOON WALKER ALAN BEAN, APOLLO 12 ASTRONAUT & SKYLAB 3 COMMANDER, THE SECOND MANNED MISSION TO LAND ON THE MOON, SIGNED AND INSCRIBED OVERSIZE PHOTO, on the mat board beneath an amazing, large size, space craft launch photo (probably Skylab 3 launched July 28, 1973), "To Gus Riggs - Thanks for all the help - Good Luck, Alan L. Bean", 14 X 13.5, also signed by Skylab 3 pilot/astronaut Jack R. Lousma, "Jack Lousma, double-matted to an overall size of 18 x 18. The edges of the photo have pulled away from the mat baking but still securely attached, otherwise in fine condition.
Skylab 3 was the second manned mission to the first American space station, Skylab. The mission began July 28, 1973, with the launch of three astronauts on the Saturn 1B rocket, and lasted 59 days, 11 hours and 9 minutes. A total of 1,084.7 astronaut-utilization hours were tallied by the Skylab 3 crew performing scientific experiments in the areas of medical activities, solar observations, Earth resources, and other experiments.

$495 #10147
Thank you for visiting our web site. We hope you enjoyed looking at all the wonderful autographs, historic documents, fine art photographs, and interesting memorabilia. Please let us know how we can be of service. We appreciate you letting your friends know about us.