LIFETIME AUTHENTICITY GUARANTEE WITHOUT TIME LIMIT
AIR FORCE & NASA: ROBERT C. SEAMANS, JR. TYPED LTR SIGNED REGARDING DEATH OF AM AVIATOR ROSCOE TURNER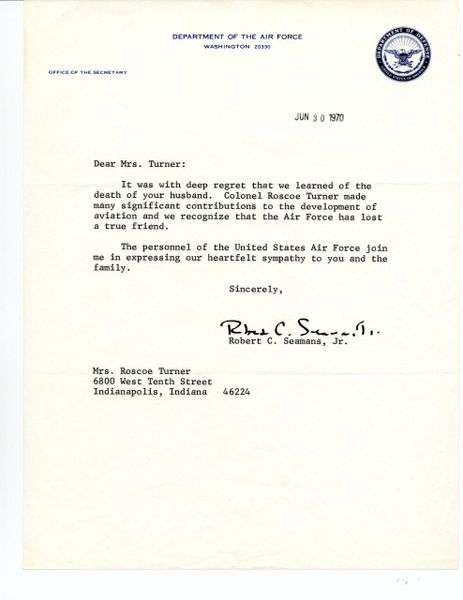 Description
AIR FORCE & NASA: ROBERT C. SEAMANS, JR. TYPED LTR SIGNED, "Robert C. Stevens, Jr.", one page, 8 x 10, June 30, 1970, on "Office of the Secretary, Department of the Air Force, Washington" letterhead, regarding the death of American aviation pioneer Colonel Roscoe Turner. In fine condition.
Robert Channing Seamans Jr. (October 30, 1918 – June 28, 2008) was a NASA Deputy Administrator and MIT professor. From 1948 to 1958, Seamans also served on technical committees of NASA's predecessor organization, the National Advisory Committee for Aeronautics. He served as a Member of the Board to the Scientific Advisory Board of the United States Air Force from 1959 to 1967. He was a National Delegate, Advisory Group for Aerospace Research and Development (NATO) from 1966 to 1969. In 1960, Seamans joined NASA as Associate Administrator. In 1965, he became Deputy Administrator, retaining many of the general management-type responsibilities of the Associate Administrator and also serving as Acting Administrator. In 1969 he became Secretary of the United States Air Force, serving until 1973.
Roscoe Turner (September 29, 1895 – June 23, 1970) was a record-breaking American aviator who was a three-time winner of the Thompson Trophy air race, and widely recognized by his flamboyant style and his pet lion named Gilmore.
The inimitable and greatly admired Colonel Roscoe Turner became one of the renowned names in aviation in the late 1920s and early 1930s. This was the flying era that abounded with the achievements of a small group of gallant pilots, dedicated engineers, courageous air leaders, and audacious daredevils. Roscoe Turner was a leader among those who pursued their destiny in the skies and bet their lives, not only on their own skill, but also on the soundness of their aircraft's design.
$95 #10727