LIFETIME AUTHENTICITY GUARANTEE WITHOUT TIME LIMIT
AESOP'S FABLES: FROM ORIGINAL SOURCES, BY THE REV. THOMAS JAMES, M.A., WITH OVER 100 ILLUSTRATIONS BY JOHN TENNIEL, 1848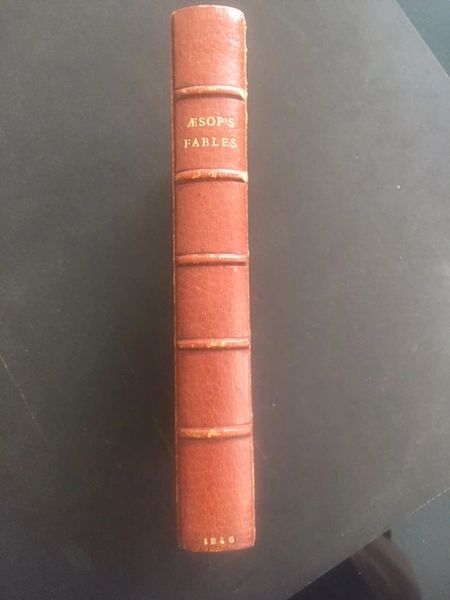 Description
AESOP'S FABLES: A NEW VERSION, CHIEFLY FROM ORIGINAL SOURCES, BY THE REV. THOMAS JAMES, M.A. [TENNIEL, JOHN, ILLUS] (London: John Murray, 1848 FIRST ED.).

AN EXCELLENT RENDITION OF AESOP'S FABLES EXTENSIVELY DECORATED THROUGHOUT BY JOHN TENNIEL, ILLUSTRATOR FOR PUNCH, CHARLES DICKENS AND, MOST FAMOUSLY, 'ALICE'S ADVENTURES IN WONDERLAND'.
John Tenniel is quite possibly the most famous book illustrator of all time. His classic illustrations are instantly recognized throughout the world and have provided us with some of the most unique and charming characters to ever grace the printed page.

THIS EDITION OF AESOP IS ONE OF TENNIEL'S EARLIEST WORKS, published nearly two decades before the first 'Alice'. Tenniel's drawings for the book were made into woodcuts by Leopold Martin, they grace nearly every page spread and appear as large text frames, headpieces, and within the text. These early drawings, done in the Nazarene style, display the eye for detail that would be a trademark of the artist still common in his work nearly 50 years later when he was honored as "a living national treasure" and was knighted in 1893 by Queen Victoria. This was the first time such an honor was bequeathed on an illustrator or cartoonist.

First Edition illustrated by John Tenniel, and one of Tenniel's earliest books, also the first edition of James' translation. With over 100 illustrations designed by John Tenniel, the famous illustrator of Lewis Carroll's "Alice" books. 8vo, in a very fine and handsome contemporary binding of full brown morroco, additional blind ruling at edges, the spine gilt tooled title and date and with raised bands, gilt board edges, gilt floral turn-ins and gilt page edges finish this wonderful binding. xxv, 232 pp. A beautiful copy, the text being near to pristine and the binding with a little rubbing and some separation on back board, otherwise exceptionally well preserved.
$500 #10633