LIFETIME AUTHENTICITY GUARANTEE WITHOUT TIME LIMIT
CHESTER NIMITZ HISTORIC TWICE-SIGNED RARE SIZE PHOTO OF JAPANESE SURRENDER FOR TWO-TIME PULITZER PRIZE WINNING NAVAL ADMIRAL HISTORIAN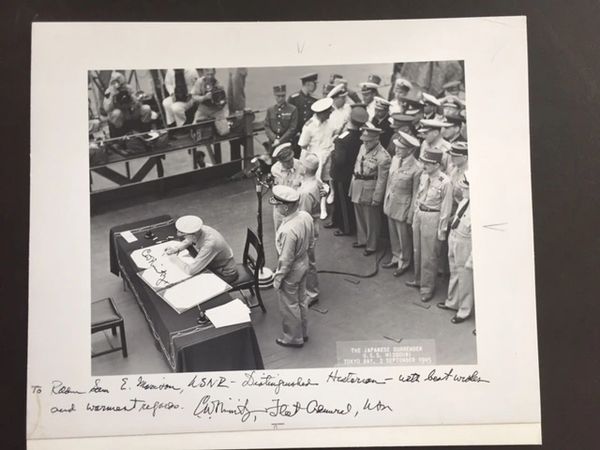 Description
ADMIRAL CHESTER NIMITZ TWICE SIGNED AND INSCRIBED, RARE-SIZE PHOTO OF JAPANESE SURRENDER ON BOARD THE U.S.S. MISSOURI, SEPTEMBER 2, 1945, 13 X 11, "To Radm Sam E. Morison, USNR - Distinguished Historian - with best wishes and warmest regards, C. W. Nimitz, Fleet Commander, USN." Admiral Nimitz has also signed across the surrender document "C. W. Nimitz." Small stain lower left border and a few pencil marks on border, otherwise in fine condition. 

Admiral Nimitz is shown signing the Japanese surrender document in this rare, oversize photo, 13 X 11,  and General Douglas MacArthur, Admiral William F. Halsey, and Rear Admiral Forrest Sherman are standing directly behind him. MacArthur is shown with his hand on Halsey's back. Behind them is a line up of the allied commanders and the Japanese delegation.
Admiral Samuel E. Morison (1887-1976) was a two-time Pulitzer Prize winning American historian noted for his popular works of maritime history. In 1942 he was commissioned to write a history of United States naval operations in World War II, which was published in 15 volumes between 1947 and 1962. He won many other awards including the Legion of Merit and the Presidential Medal of Freedom.

$4200   #10227ZORRR  (Please search our product inventory for more significant WWII autographed items)
Thank you for visiting our web site. We hope you enjoyed looking at all the wonderful autographs, historic documents, fine art photographs, and interesting memorabilia. Please let us know how we can be of service. We appreciate you letting your friends know about us.