LIFETIME AUTHENTICITY GUARANTEE WITHOUT TIME LIMIT
LINCOLN, ABRAHAM ORIGINAL VINTAGE 19TH CENTURY ENGRAVING AFTER BRADY STUDIO PORTRAIT 1865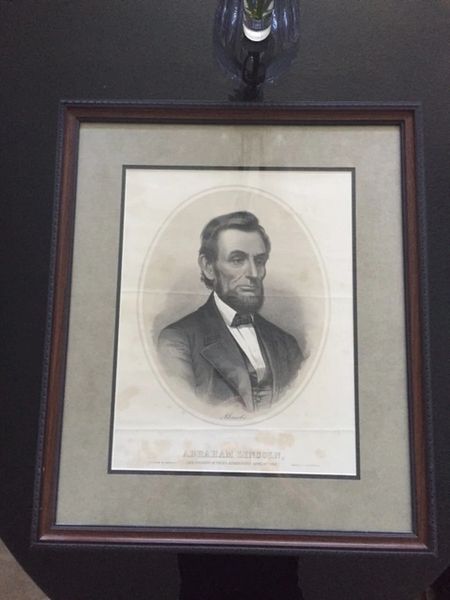 Description
LINCOLN, ABRAHAM ORIGINAL VINTAGE 19TH CENTURY ENGRAVING AFTER BRADY STUDIO PORTRAIT 1865

ABRAHAM LINCOLN: Rarely available, "A. Lincoln Lithographed Portrait," surmounting a facsimile autograph in a large oval., 14 x 18, after a Brady studio photograph. Printed by Gibson & Co., Cincinnati, OH. Bright, strong portrait with some light scattered foxing and two fold creases. Beautifully double matted, 22 x 26. A wonderful addition to any Lincoln collection.
This portrait is based on the 1864 photograph by Anthony Berger done in Brady's studio. It is a large print and one of the most neat in the depiction of Lincoln's hair and clothing of all that we have examined. No hint of the backwoods rail-splitter is here. Rather the image is of a strong and serious man with a mature beard and more hair than in any other portrait. The print fits with the message of victory approaching for the North in the Civil War, and it would have been welcomed for those mourning after Lincoln's assassination.

Almost all oval portraits such as this would have been destroyed given the destructive materials used and climate in most homes in the late 1800's, the fact that few of this printing are available is no surprise. Offered double matted without the frame. Can be sold with the frame at $125 extra for professional shipping and handling.
$950 #10074
ON SALE $699 - YOU SAVE OVER 25%