LIFETIME AUTHENTICITY GUARANTEE WITHOUT TIME LIMIT
LINCOLN, ABRAHAM EMANCIPATION PROCLAMATION RARE FIRST PRINTED NEWSPAPER NOTICE OF THE SIGNING JANUARY 2, 1863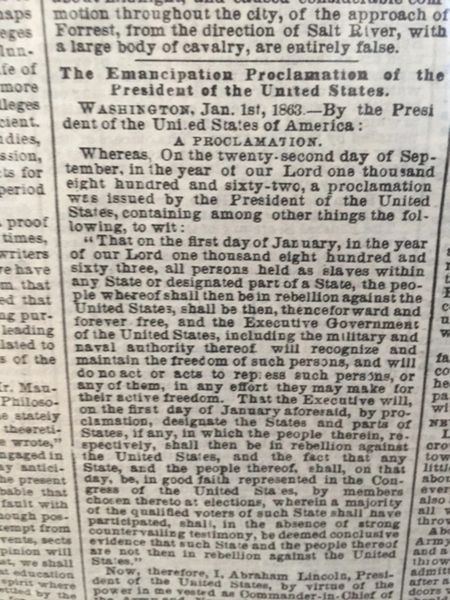 Description
AN ORIGINAL AND EXTREMELY RARE HISTORIC PHILADELPHIA, PA NEWSPAPER PRINTS THE EARLIEST NOTIFICATION OF THE SIGNING OF THE EMANCIPATION PROCLAMATION BY ABRAHAM LINCOLN
[ABRAHAM LINCOLN]. EMANCIPATION PROCLAMATION. NEWSPAPERS.  THE PUBLIC LEDGER AND DAILY TRANSCRIPT. PHILADELPHIA, PA, JANUARY 2, 1863, 17 X 24.  
Page two contains the original and complete printing of President Abraham Lincoln's immortal Emancipation Proclamation which freed all slaves held in the states and territories still occupied by the Confederacy. 

The Proclamation states, in part: "That on the 1st day of January, A.D. 1863, all persons held as slaves within any State or designated part of a State the people whereof shall be in rebellion against the United States shall be then, thenceforward, and forever free;…" Another portion of the document declared that blacks finally could serve in the U.S. military to garrison forts and other places, and to man ships. A month later, the 54th Massachusetts (Colored) Regiment was formed–the first Northern black regiment of the war. There are several more articles about the proclamation, one of which is the editor's opinion, In Part: "Elsewhere we print the President's important proclamation...it behooves all loyal men to accept it...If it answers the purpose...in restoring the Union...the President...is patriotic and strives with heart and soul to conserve the union...." Of note also are the many articles about the Civil War battles then currently of interest which remind us that on this historic occasion the war was still very much in the news and would continue for more than two years.
This is the earliest newspaper printing of the Proclamation we have seen or owned. Almost all other newspapers published Lincoln's statement a day later on January 3rd. One of the key events of the Civil War and Black history, and a truly incredible opportunity. In addition to the historic importance of this newspaper, in my opinion it's a great investment opportunity. 
Though the signing of the Emancipation Proclamation signified Lincoln's growing resolve to preserve the Union at all costs, he still rejoiced in the ethical correctness of his decision. Lincoln admitted on that New Year's Day in 1863 that he never "felt more certain that I was doing right, than I do in signing this paper." Although he waffled on the subject of slavery in the early years of his presidency, he would thereafter be remembered as "The Great Emancipator." To Confederate sympathizers, however, Lincoln's signing of the Emancipation Proclamation reinforced their image of him as a hated despot and ultimately inspired his assassination by John Wilkes Booth on April 14, 1865.

IN FINE CONDITION.    
$2500    #10158        (To see other Rare Newspaper Items CLICK HERE )

 Thank you for visiting our web site. We hope you enjoyed looking at all the wonderful autographs, historic documents, fine art photographs, and interesting memorabilia. Please let us know how we can be of service. We appreciate you letting your friends know about us.