LIFETIME AUTHENTICITY GUARANTEE WITHOUT TIME LIMIT
AB JENKINS SIGNED AND INSCRIBED MORMON METEOR III PHOTO, 1939, AT BONNEVILLE SALT FLATS, UT, TO AMERICAN AVIATION PIONEER ROSCOE TURNER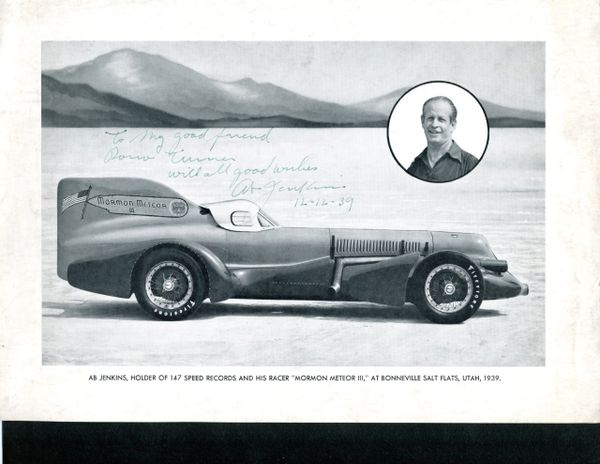 Description
AMERICAN LAND SPEED RECORD HOLDER SIGNS PHOTO TO AMERICAN RECORD BREAKING AVIATOR
AB JENKINS SIGNED AND INSCRIBED MORMON METEOR III PHOTO, "To my good friend Rosco Turner with all good wishes/Ab Jenkins,12,12,39," 10 X 8, IMAGE IS OF THE CAR AT BONNEVILLE SALT FLATS, UT. Some surface soiling but otherwise in fine condition. 

David Abbott "Ab" Jenkins (1883-1956) Land Speed Record Holder, professional race car driver, and 24th Mayor of Salt Lake City (1940-44). Because Salt Lake City, in the early 1900's, was a major area for bicycle and motorcycle racing, it was known as "the birthplace of speed." Jenkins was active in dirt track motorcycle racing as a young man and later on he began to see the potential in the area for racing. He was instrumental in establishing Bonneville Salt Flats as the location for land speed events. He was known as a deeply religious man and was quoted as saying, "I owe the maintenance of my endurance ability to the observance of the Word of Wisdom of the Mormon Church."  in 1939 Jenkins brought a new car to the flats. It was the mammoth Mormon Meteor III, shown in this historic signed photo. The Mormon Meteor III broke 21 records that year. Over the period of his racing career, Ab Jenkins held and broke more records than any other person in the history of sports. His 24-hour record of a 161.180 mph average stood for 50 years, being beaten in 1990 and only by a team of eight drivers. Jenkins' record for the 48-hour endurance run still stands to this day. 

$795   #10210   (ITEM #10209 OF INDY 500 WINNERS MIGHT BE OF INTEREST)
Thank you for visiting our web site. We hope you enjoyed looking at all the wonderful autographs, historic documents, fine art photographs, and interesting memorabilia. Please let us know how we can be of service. We appreciate you letting your friends know about us.